Home
Half Cent - Dollars - U.S. Gold
U.S. Singles
Carson City Coins
Silver Eagles
Proof Sets
World Coins
Supplies
About Old Mint
Terms of Sale
Specials
Coin FAQ
Gold and Silver Bullion for Sale
Jewelry
The metals market is swinging so wildly we can't update fast enough.
The premiums on all metals are insane, depending on what you are after be prepared to spend 15% to 30% over spot for basic bullion items.
_________________
In Stock Now

2010 American Silver Eagle $25.00 each
All one ounce and larger silver coins are priced based on silver at $15.00 an ounce. Adjustments will be made for wildly swinging silver prices AND THEY ARE.
_______________
In Stock Ready to Ship Now.

2007 Australian Year of the PIG - Boar 1oz Silver $34.95 each
In Stock Ready to Ship.
In Stock Ready to Ship.

2009 1oz. Silver Chinese Pandas $34.99 each click here to buy
In Stock Ready to Ship.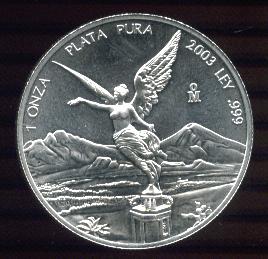 2007 Mexican Silver Libertads uncirculated $34.99 each click here to buy
This Page was last update on02/12/10
Modesto Coin & Bullion is
California's Central Valley Rare Coin & Bullion store.
What this site can do for you.
1. Give you the updated Gold and Silver spot metals price. Just look to the left and click Gold & Silver Bullion.
2. Put in front of you hundreds to thousands of rare and semi-rare United States coins with grades and prices that I currently have for sale. Just look down the left side and click U.S. Coins then choose and click on the denomination that you are interested in.
3. Tell you what I am buying and selling Gold and Silver Bullion for today, or very close to it.
4. Give you offers on certain world gold and silver coins as they come into my hands.
5. Offer you a huge selection of coin collecting supplies such as Storage Albums, Red Books, Magnifying glasses and protective coin holders and the list goes on.
6. COMING SOON--- Something that I have wanted to for a very long time. A quick down and dirty guide to evaluating a shoebox full of coins that you may have or receive. Please give me a little time on this, but I promise that it will be worth it. I will put it on the Frequently asked questions page. Look for this sometime this year.
7. There are many other pages in our site with loads of additional information and prices. I welcome you to add us to your favorite places and a spend a little time browsing the site from time to time.
Throughout the site there will be overstock specials as overstocks occur. Look for Overstock - Special Price next to the price of an item. The price listed is the special lower price and will only last until I am back to normal inventory levels. The first items with special prices will be Proof Sets & Mint Sets. Click to buy or give me a call.
We are long standing members of the A.N.A., as well as being PCGS and NGC authorized dealers. To see what others have commented about us read our feedback on our about me page on ebay.
---
Looking for coin supplies and reference guides. Visit our supply section featuring seven pages of supplies to fill your needs
2009 15 Coin Proof sets are now available at Old Mint
Click here to buy 2009 Proof Sets for $39.99 each
Click here to buy 2009 Silver Proof Sets for $59.99 each
For Large or small scale investors our best prices and quantity discount are still on our Precious Metals Page .
---
---
Click the eBay box to see our eBay auctions online. Then click the " About Me " page to see a great picture of the Carson City Mint Building.

Please visit our About Old Mint page to learn about our staff..
---
2010 American Silver Eagles
In Stock Ready to Ship.
Buy One 2010 American Silver Eagle for $25.00
Buy 20 Pieces (1 roll) for 479.99
Black U.S. Treasury velvet gift box for Uncirculated ASE $2.99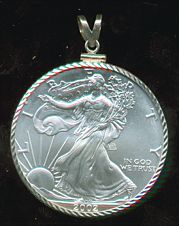 On the left is a rather distinctive way to show off your superiority to the non-numismatist. A 2002 American Silver Eagle mounted in a solid sterling diamond cut bezel. This beautiful necklace will make you the envy of all your friends!
Buy One 2010 American Silver Eagle in a Diamond Cut bezel for only $74.99 each
If you are looking for some other way to convert you Silver eagle into jewelry check out our Silver Coin Bezels
---
If you have any questions about any of these items please contact us at
Modesto Coin & Bullion
145 Woodrow Ave. Suite D
Modesto, CA 95350
1-209-521-6500
Modesto office
1-209-573-1387
Modesto

area cell

1-775-721-6560 Carson City area cell

or you can Email us at

Hours: 10:30 a.m. to 5:00 p.m. Pacific Time.
Tuesday through Friday. Till 3ish on Saturday.

Call on Mondays as I am in and out.

Closed Sunday and most Holidays.