The metals market is swinging so wildly we can't update fast enough.
The premiums on all metals are insane, depending on what you are after be prepared to spend 15% to 30% over spot for basic bullion items.
_________________
In Stock Now

2010 American Silver Eagle $25.00 each
All one ounce and larger silver coins are priced based on silver at $15.00 an ounce. Adjustments will be made for wildly swinging silver prices AND THEY ARE.
_______________
In Stock Ready to Ship Now.

2007 Australian Year of the PIG - Boar 1oz Silver $34.95 each
In Stock Ready to Ship.
In Stock Ready to Ship.

2009 1oz. Silver Chinese Pandas $34.99 each click here to buy
In Stock Ready to Ship.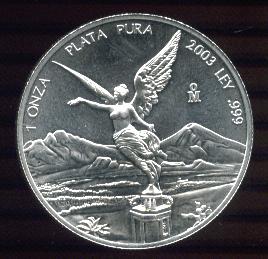 2007 Mexican Silver Libertads uncirculated $34.99 each click here to buy
This Page was last update on02/12/10
Modesto Coin & Bullion is located in north central Modesto on the northwest corner of McHenry & Woodrow Ave. on the west end of the parking lot. We specialize in rare US coins and currency, as well as servicing our silver and gold seeking customers. We are constantly working to expand our large and diverse inventory in order to help you fill your collecting needs. If you don't see what you need on any of our pages, feel free to call 1-800-649-2646 or e-mail me at
.
If, instead, you are interested in building or selling your gold and silver stockpile, see our bullion page, where we post updates on spot metals daily, and find out how to buy or sell your gold, silver or platinum to us, it's very easy.
About the Owner
My name is Joel Mitchell. I worked for a full service coin shop for a few years before I opened Old Mint Coin & Bullion , Downtown Carson City, NV in 1992 right across the street from the former Carson City Mint. That location had been a coin shop almost forever. I have had a partner or two over the years and now it is back to just me doing all of the fun stuff, buying and selling coins, evaluating collections and meeting all of the tourist that came to town for the Carson City Mint tour and the general atmosphere of the State Capitol. Long Story circumstances made me decide to sell Old Mint Coin and find a new location. After hearing tales of other areas I took several long road trips and found Modesto Coin Center in need of what I have to offer, a friendly full service coin shop. So after two and a half months of negotiations Modesto Coin Center was retired and Modesto Coin & Bullion was born - July 8th 2008.
As mentioned before our shop is located in Modesto, California. Modesto is a great city in the center of California 30 miles south Stockton on Hwy 99 - 75 miles west of Yosemite National Park on Hwy 120 - 90 miles east of the San Francisco area, various routes - 90 miles north of Fresno again on Hwy 99.
I have a passion for rare coins, buying as well as selling, and quality friendly customer service. My goal is to provide my customers with great coins at great prices and be as helpful as possible. When you view our list of inventory you will see coins that are conservatively graded and accurately described.
If you have any comments or question feel free to call 1-(209)-521-6500 or email me
.
If you decide to come to our area stop by and see us, we'd like to meet you. If you need to ask about the values of coins that you have please bring them with you. We are on the north west corner of McHenry, the main, the original, - American Graffiti - drag, and Woodrow Ave. Woodrow Ave. changes to Robin Hood at McHenry, Woodrow exist west and Robin Hood exists east of McHenry . The local telephone number is (209) 521-1387, give us a call, tell us where you are and we will give you easy directions or write them down now.
From Stockton
From Lake Tahoe
---