The metals market is swinging so wildly we can't update fast enough.
The premiums on all metals are insane, depending on what you are after be prepared to spend 15% to 30% over spot for basic bullion items.
_________________
In Stock Now

2010 American Silver Eagle $25.00 each
All one ounce and larger silver coins are priced based on silver at $15.00 an ounce. Adjustments will be made for wildly swinging silver prices AND THEY ARE.
_______________
In Stock Ready to Ship Now.

2007 Australian Year of the PIG - Boar 1oz Silver $34.95 each
In Stock Ready to Ship.
In Stock Ready to Ship.

2009 1oz. Silver Chinese Pandas $34.99 each click here to buy
In Stock Ready to Ship.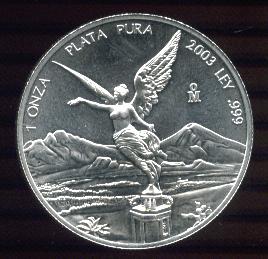 2007 Mexican Silver Libertads uncirculated $34.99 each click here to buy
This Page was last update on02/12/10
Let's Talk about Investing
As you search throughout the web you'll find numerous pages proclaiming the many benefits of investing in rare coins, gold, silver and other prescious metals.
Obviously, I believe in these products or I could not be in this business, but why should you? The fact is that you can do quite well speculating and long term investing in these products. To be successful you need three things
Passion
Having a true desire to own these products for their beauty and intrinsic value. The products that we sell represents not only a prescious metal content, but are also works of art created by world reknowned artists like Augustus Saint-Gaudens and Victor David Brenner. The enjoyment received from owning these pieces is no different than that from any other piece of fine art.
Patience
Many people I meet believe that rare coins always move up. This is not true! Like any other market we are subject to the whims of supply and demand. At times it seems that everyone wants to own silver, and then no one does. The trick is to pick your time and follow the waves. With rare coins you must purchase with care, pick products you love and you'll find that others love them too.
Tenacity
Research your choices. Why should silver make a move? Did a solid gold asteroid just land in Kamchaka permeated our atmosphere with gold dust? Is platinum the new basis for an energy source. These are obviously absurd examples, but market research is key. Be diligent and learn your market.
I am here to help you build your portfolio or fill that rainy day hole you just made in the backyard. We do not do hard sells, rather we try to incorporate as much pertinent information into our web site as possible.
I am in the business of buying and selling many different bullion products. I do not know what silver or gold will do in the next day or week or month or ten years. If I did know I would not have any time for this business, I would be setting myself up to be the richest man alive.
There are four prices in this business.
From lowest to highest-
1. What I will pay when you ask me to buy from you.
2. What I will sell that product to a wholesaler for.
3. What I will pay a wholesaler to buy the product that you need from me.
4. What I will sell the product to you for.
It is my intention to make a few dollars every single time I touch an ounce of gold and of course much less if we are fondling the silver.
For market information on precious metals a great site to visit is ShareLynx Metals Info.
If you have any questions about any of these items please contact us at
Old Mint Coin & Bullion
603 North Carson Street
Carson City, Nevada 89701
1-800-649-2646
Local collectors can call
884-4344
or you can Email us at
Hours: 10:00 a.m. to 5:00 p.m. Pacific Time
Monday through Saturday